ok ok. since everyone's begging for a nice sunny post well here it is.
yesterday was the press launch of star circle batch 13. i've been part of these launches since batch 9 (which included heart evangelista and rafael rosell to name a few) and you can say that i'm a little bit used to the chaos that happens at these events. anyway after the presentation, some of the road managers, handlers and i managed to snag a few minutes of 'fun' time.
the unfortunate subject of the next few lines is good friend leah aka lelai reading FHM *lol*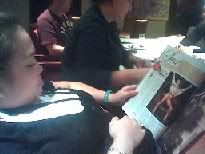 lelai: hmm...this article by asia agcaoli looks like an interesting read...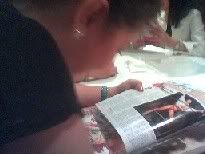 lelai: OMG! ganun pala yun (getting engrossed eh...)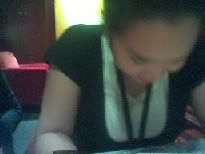 lelai: masubukan nga to...
i'm just kiddin' folks. lelai's a good girl. the article's only for stock knowledge. *lol* my shoulders ached for lugging my bag around almost the whole day, for fear of losing some stuff (and for someone to snag the copy of the cosmopolitan mag i myself snagged from my boss haha). but all in all it was a fun night.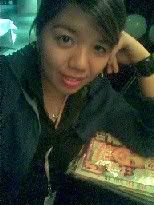 tired by the bar. the dark circles under the eyes from lack of sleep. i should start drinking. haha.
oh and yeah, cherry tell jane can i please just buy her patty shirt? puhlease? :)