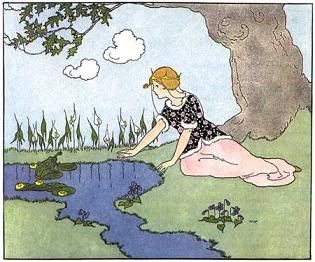 nce upon a time in a kingdom not so far away there lived a princess, who was living a simple yet complicated life. she was often times heartbroken and would go to the small stream behind their castle to rant. the princess would cast her pains and sorrows to the stream, talking to herself, letting her tears create small ripples in the water.
one day as she was procrastinating, a frog suddenly jumps on a lily pad and starts talking to her. he wondered if they'd get along. they talked and talked about anything and everything. amazed at the wise words that the frog conveyed to her that the princess would now visit the stream hoping that she would be able to talk to him. the frog answered her questions and would console her, took her tortured heart by the hand and somehow healed her. finally someone who understood.
then out of the blue, during one of their talks, the frog asks for a kiss. though a bit taken aback, the princess obliges. after all they were friends now. the princess kisses the frog (or was it the frog who kissed the princess?) and he turns into a handsome prince. the kiss somehow changed the way things are with the princess and her newly found prince charming. they were still friends yet there was something building between them which got the princess confused.
prince charmings usually save the damsels in distress, and the princess felt like he did save her from misery. but suddenly things changed yet again. the prince after a while became busy with princely duties and 'man stuff' that he didn't have time for the princess anymore. they talked less and less. until the princess wondered if he still thinks about her. or even remembers her. and he disappeared without much of an explanation.
so the princess was lonely once again. she thought that maybe the frog prince would be different but in the end he was not. he was just the same as the prince charmings, who came and went, the ones that left scars on her heart. and this scar was deeper than the others. because she missed their talks. she missed their friendship. but it was too late now. the deed was done.
now the princess sits by the stream once more, creating small ripples in the water with her tears.
the end.
moral of the story:
princess
1. don't talk to strange frogs.
2. don't kiss frog princes. besides being warty they are still male.
3. the princess should hang out at other streams. or maybe just go to the town country fair.
frog
1. don't talk to broken hearted princesses. they are still vulnerable.
2. smart frogs should just remain friends with princesses who give them kisses.
3. frog princes should ask kermit the frog some pointers on being a good frog.