the past 2 days were extremes for me. tuesday i was all out formal. sabi nga ni ana parang may awards night daw akong pupuntahan. hey isn't it nice too look pretty once in a while? people nga naman, if you look too good, you have a date. pwede naman magpaganda ng wala ha. :)
then yesterday, i was very beach-y. having a dry run for galera on the 20th. yahoo. finally vacation. okay. here is what the 2 extremes looked like.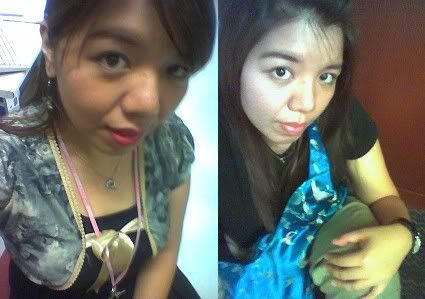 picture a: the award winning all black number. picture b: the japanese/chinese inspired beach wear.
the beach attire got me through my 20 hour workday yesterday. yup you read that right. got another star magic catalog pictorial and it ended at 330 in the morn. i was sooo zonked out. i was the instant (was informed of the job minutes before the pictorial staff left ABS-CBN) photographer's assistant and we did 8 artists (the diva's maoui, michelle and glaiza; shaina, rayver, bea, john lloyd and sweet)all in one day. buti na lang i was in slippers. too bad darwin wasn't there to do my do. but sir david and i came up with a new pictorial session. the results will be coming out soon.
but don't wait for it with bated breath cause i'm no cindy crawford. heehee.