"Believe in happy endings... if you're not happy then it is not the end yet..."
i 'bumped' into this quote somewhere in PEX land. it's like saying 'AJA' to me. maybe it is...
just came from the talent center 13th anniv mtv shoot. kung kelan naman ako walang dalang jacket, we hung out sa studio 10 where it was super duper cold. it was a lot of fun amidst the chaos of the shoot. kasi nga talent center is one big family so it was like one big family reunion. almost all the stars andun, it will run til 11 tonight and may continuation pa tomorrow.
we arrived at the studio in time to catch desiree del valle's shoot. gawd. sabi ko nga kina ana natotomboy ako sa kanya. she's so sexy!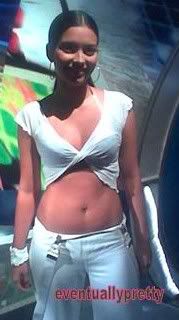 i just couldn't help asking des to strike a pose!
idol ko na si des. i'm already on a diet but i'm really going to get serious about it. not only for the galera trip but for the rest of the year.
kayanin kaya yun ng powers ko? *gulp*