happy heart's day. isn't it nice that everything's smelling roses...for some people that is. hey im no ampalaya today. in fact im in a smiling mood today. i have lots to tell, what happened over the weekend.
Bora...Bora, Bora...
No i didn't go on a vacation. wish ko lang. it was the Bora, our new sitcom, press conference last friday, the reason why i was in my summer get up (though i don't really have summer get ups. takot ako sa araw.)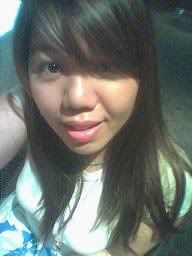 it was actually freezing during the press con. but we had to project we were feeling the warm beach breeze on our faces wehehe...
Yes joy, sa kangaragan ko nalimutan kong magpa-pic kay piolo. at yes alam ko ding sawa na kayo sa pagmumukha ko haha...pagbigyan niyo na ko. yan lang ang libangan ko. anyway after piolo, diet and jericho made beso good bye to me *aherm* and to the other staff there, we were feeling a bit lazy, so we waited for 4pm and off we went to mr.m's bday pakain sa Bora taping at studio 10. i found this star on one of the birthday cakes really intriguing so i got it and silly me even made a wish after tacking it on the corkboard beside my desk.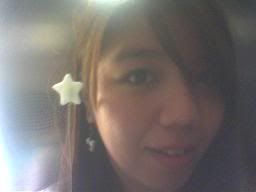 nice lighting sa elevator! twinkle, twinkle little star...
ba...be...bi...bo...buuuu...
after that ate nenet bought us to this manghuhula in marikina. it was my first time to have my fortune told. i don't really believe in 'hula'. i believe that i make my own destiny, na hindi pa siya laid out para sa akin. then again wala namang mawawala di ba? so go na rin. well to make the long night short (5 am na ko nakauwi dahil sa paghihintay namin) of course the much awaited part was the love life prediction. we had a laughing spree, sa sobrang, i don't know accurateness or preposterousness nung mga hula para sa 2005 love life namin. thess got herself a deadline, grace would have a bigger family and i would be two timing daw... asus ako pa? two timer? wahahaha...and to top that off i would have a flourishing love life BUT i did not hear if there was going to be a serious one... puro sabit dito sabit duon. heck sa dami ng sabit parang what am i chopped liver? *lol* but really it was as if i only deserve left overs and problematic sons of...beaches :)
tada...happy hearts day! AND same to you.
well sige na nga. mabait nanaman siya last friday and sunday. he was sweet and all. siyempre i was beaming mind you. but adding to that shiny glow was my hope torturer re-surfacing. sabi ko nga kay joy, tsk tsk iba na ang in demand hahaha...well all for the wrong reasons yun nga lang *toink* but you know what before di ako nagdalawang isip to see him sabay nitong si current (maybe that was what ms.manghuhula was seeing?harharhar) but now, it's getting harder to say yes to the boys on the side. gawd maybe my days as a player are over...NO! *lol* kidding aside, naiinis ako kasi nagiging serioso na ako when for all i know he is still playing with me. hay life.
today i greeted si current ng "happy heart's day!" and all he could say was "same to you". very sweet di ba. argh.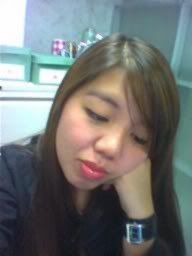 it was a pathetic text message. hay life.
but then again my online friend really made me smile by answering my laments to him with this...
"haha.. i guess you have to change fortune tellers. Pick the one that tells you that you're gonna find Mr. Right soon. or in your case.. the Mr. Right is gonna be free soon. i think you have to take a look at your situation in a more positive way. Your guy won't be risking anything if he didn;t find anything extra ordinarily special in you, right? so.. you must be a very special girl. You should be careful not to let guys fall for you too much. "
i dunno about that last part *lol*.
but it's the sweetest thing.