para malibang (as i have described some of my activities after the breakup or whatever that was to a few people).
so i joined some people from pex in a 'field trip' to tagaytay. you might be going "ha? di pa niya kilala yung mga yun sumama na siya..." i'm so very used to meeting people on line. mapa date man yan, fannish activities *lol* or buying stuff. and they were friendly people naman. and we have this sort of connection sa threads. kumbaga sila yung clique ko dun.
anyway, to make the long story short nagenjoy kami.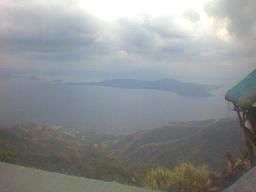 view from leslie's
after lunch sa leslie's we decided to go swimming. my sister told me nga when she learned we were going swimming "Nye ang lamig kaya dun!". Yeah we were one crazy group. But would we pass up this opportunity? No! Kaya kahit na ngangatog kami sa lamig go pa rin.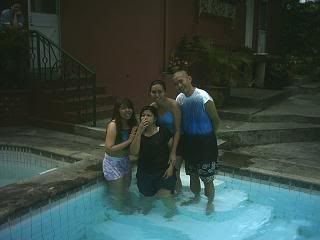 nung una si luther lang ang thorn among the roses sa pool...
But there were more crazy stuff to come. The drinking spree we had lasted till 4 in the morning with francis and quels drinking a glass of baileys for me (ang sweet naman...nye!) and me drinking a glass for chelo who was about to vomit sa sobrang paginom dahil sa pagiging isang "unlucky me" niya.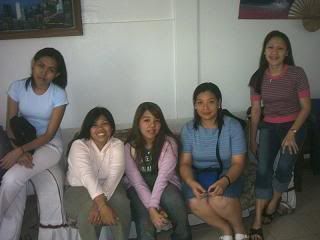 aww aren't we pretty. 4 pex girls and 1 friend (l-r) chelo, chelo lee, me, badette and era.
During the Q & A portion though, i learned a new image of me that i didnt know that i projected. and hindi ko rin alam kung matutuwa o maiinis ako sa discovery na yun...right chelo girl? Sobrang saya kasi tayong kasama hahaha... you think he still has a score to settle with us? hmm... at masaya siya dahil andun tayo... oh he still doesn't know how cruel girls can also be. tayo pa? *lol*
so ayun nga ang ending ng weekend ko, nalibang nga ako. :)