for almost a year now, my bangs have been a trademark of mine. it added to my turning japanese-chinese-korean look. most of the time i do the cutting myself, kasi one time pinagalaw ko sa salon, nainis lang ako hehe...
but today i wanted to look kinda different. so i hid my bangs.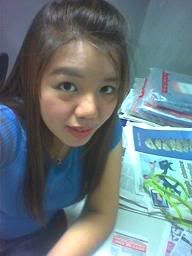 i can see clearly now! hahaha...
so do i look diffrent? not too much i guess. *lol* i don't know what to write today. hmmm...nothing much has happened to me eversince monday night. and ang mga guys talaga. masaya siya when he learned of my theory. haha... hmmp. batukan ko sya dyan eh. *lol*