i was assigned to the Star Studio-Star Magic Catalog shoot last night. i was to assist project head/photographer david fabros with whatever needs he had. fortunately or unfortunately, andun lahat ng roadmanagers ng artists -- leslie, darwin and jing. so with 3 of us there plus sheila from ABS-CBN publishing there was no point of me being there hehehe...
well anyway, while we were lounging around the dressing room darwin suddenly takes on "parlorista" mode and starts doing my hair as if there's a hair styling competition...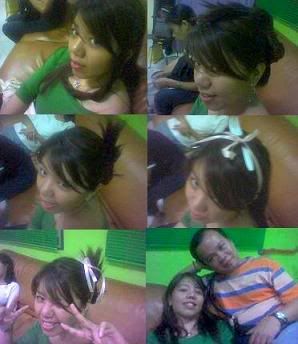 the styles...from vamp to fast food chain model and korean pop star hwehwehwe...
the last frame was the before look. *lol* what did i tell you? we talent center people are a crazy bunch. :)
went home 1 am na...zzz...
ps. wore my green sabrina bench shirt. the scar was there for all to see. ;)