meet my boyfriend...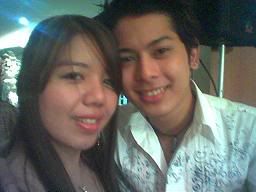 *lol* i wanted to start this blog entry with something nice, cute and pretty yummy...haha just kidding. wouldn't i want a boyfriend like joseph... he's off limits though, he's too young! pero labs ko si joseph na parang bro ko . pero sayang pa rin tsk tsk... *lol* just playing.
the day started with me again promising to be early but i ended up going to work the usual time. here i am polishing up on the make up while doing the monitoring which by the way i haven't finished yet.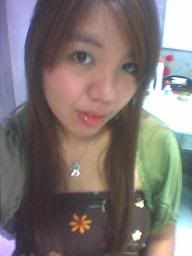 anyway ana's wedding started on a fine friday afternoon. almost walang natira sa office because lahat kami andun. i was the lector for the mass and i was a bit nervous cause i haven't done that gig since i dunno when.
after that at the reception everything went along even better and the wedding we have antcipated for over half the year was done in about 2 hours! whew! ana was so happy. imagine finally getting married after being a couple for 8 years. though ana couldn't stop the water works cause she really misses her parents (they passed away already) and they didn't get to see her get married. pati kami we had to control our tears from spilling over. buti na lang i didn't get the half heart thing na supposedly para sa mga singles (alternative sa bouquet throwing) dahil nakakahiya ang mga pinagawa sa kanila.tapos party party afterwards with jerry stealing the dance floor and us doing an impromtu 'move ya body'.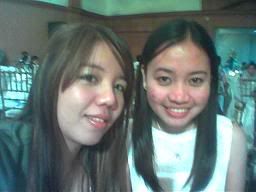 di talaga namin mapigilan ang hindi magpapicture *lol*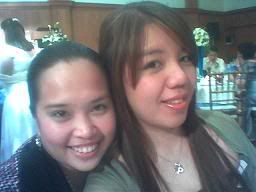 siyempre isa pa ulit with leah naman.
and then comes the gimik. there were 4 of us, leah, nhila thess and i. off to racks el pueblo we go. 1130 pm na nang dumating kami dun. thess and i came to the conclusion na 'lola' na kami when it came to the club/bar scene. shoot we felt really old there. puro mga teens (or feeling teens) from wall to wall. though we danced up a storm (si nhila mabenta sa mga foreigners, 2 ang nakisayaw sa bruha)! there was this form they made us sign up and as i was signing up my name and read the form i really had to laugh. i was the eldest to sign up--me being 26 and the rest ranging from 18-23 lang! *lol* hay. napaglipasan na ata ako talaga ng mga gimik na ganyan. pero masaya. thanks leah for the gimik idea.
but i realized im cool already with just a short caffe mocha at starbucks and good company.
right now i'm in the office slaving away on my monday deadline and craving for an ice monster...