another thursday with nothing to do. hehe... so how do we make ourselves more productive?
1. one of talent center peeps hobbies are making kodak moments. outdoing the previous picture taking pose, smile or number of people compressed into that view finder. ate nenette had her digicam so kodakan ng kodakan.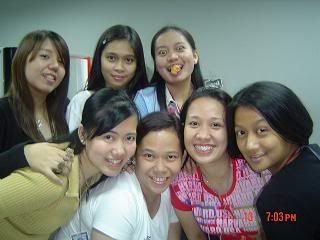 (foreground fr l-r: gidget, joy, thess, janice. at the back l-r: me, grace and nhila.)
2. eversince jerry bought a car we have been going to crazy roadtrips weekly. well last night was no exception. stuff 8 people into a red honda city, start the engine and the result? a pictorial with the man himself -- ronald mcdonald. syempre yung kumuha crush ata si nhila kaya ayun putol yung ulo ni ronald which was the whole point of the pic. nye...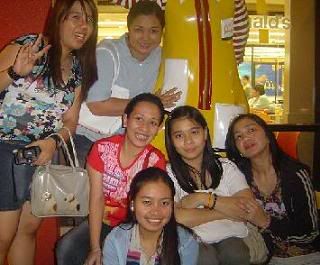 (l-r: me, ana, thess, nhila, grace and ate nette)
but that's not the end of this story.
after dropping off ate net sa may west ave then ana and thess sa marikina, we had a session of kwentong basta's which led to a drinking sesh at grace's house in muntinlupa. usual road trip na yan hehe, gastos sa gasolina plus sa toll. and sa sobrang kakatawa, ayun si jerry plakda. stranded kami kina gracia. jerry just wouldnt get up so i and nhils had no choice but to get some shut eye na rin. BUT namamahay ako. i didn't sleep a wink. i can hear each and every kaluskos sa bahay nina grace plus yung mga sasakyan sa h-way. ending? i got home 8 am na yahoo...may pasok pa *lol*
oh and by the way strange phone call last night. ako nga ba ang tinatawagan niya? hmmm...