i admit, talo pa rin ako ni liezle pagdating sa korean showbiz info. the people who i influenced with the korean wave fever, eh mas knowledgeable pa ngayon sa akin. *lol* well that's alright. at least now they are my informers. sana lang matupad ang wish ko to have a korean-english dictionary hehe.
though i have never stopped listening to kpop. or stopped watching arirang tv and korean movies. sassy girl still remains my favorite korean flick of all time and kim jung hwa is still the prettiest korean lass i have ever seen. panalo pa rin ang videos ni lee soo young and jjang nara. i interviewed lee jae jin. super cutie sina jo in sung, cho han sun and the fly to the sky duo. seven blows me away with his dance moves. kim rae won is HOT. korean dramas move me to tears. and masaya friendship kami ni sandara *lol*
my list could go on and on. sabi ko nga sa t.e.c. ang dream ko eh magtransform into a korean by the year 2008 *lol*. lokaret di ba... eto na lang sana ma-achieve ko ang flawless skin nila ( in your dreams patty!).
sige na nga hairdo na lang ni BoA. teehee.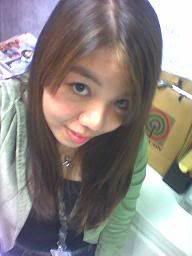 highlights ba yan? yeah i know its not that different from my previous hair color but im happy with the way it looks. :)