i just had to take that term from neri (pahiram muna ms. naig) . today was press con day. of course nagpa-beauty ang yours truly. but then again my "vivian kang look" would have served another purpose if my date *aherm* had pushed through. pero dahil may trabaho -- zero. but im happy with my look (ang yabang ko talaga haha)--kulot salot.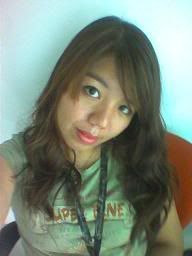 they were teasing me gidget was mad cause i was stealing the vivian kang look from her. haha!
but the day didn't end with the press con. nag field trip nanaman kami sa tagaytay. where in the world can you find a bride on her honeymoon asking her friends to join them? *lol* kakaiba talaga tong si ana. so off we go to tagaytay. buti na lang i changed into jeans and my pink converse. it was soooo damn freezing! making me wish for a certain someone...*lol* (wipe off that dreamy smile off your face patricia). hay 4am, im back at my german measle stricken home (yes my sis has it, nginig!). and now here i am late for work! nyehehe...
but i was really taken aback by his text. i even told thess he was nice for 2 days already. makes me wonder. "sana walang iba..." question. who has someone else? well not me. unless my hope torturer gets resurrected.
hala...