...hahaha. yes it is my first day at work, new office, new computer and new faces.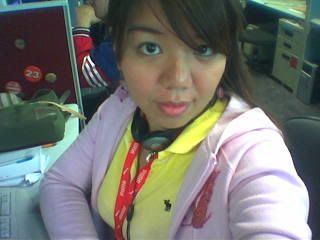 see hindi na filing cabinet ang nasa likuran ko!
got in at 9 am (which is early for someone like me who is VERY used to coming in 1130 am or so)i'm still sleepy! and so much for first impressions. though i got in on time, nahirapan ako mag-adjust sa bago, meaning new sa paningin ko pero di sya new in the sense na first hand na sa kin sya at super slow (grrr!) kong PC. i want my old PC back hehehe...pero sadly asa former bossing ko na siya...
i am now watching ABS-CBN shows blow by blow so to my TV addict friends there, ayan updated na ako sa lahat ng entertainment programs ng ABS. i can now answer questions *lmao*. oh and i just wanna gloat, we have pinoy big brother here at the office 24/7 hihihi...who wants to come over and watch? :)
check out our site a bit later
http://www.abs-cbn.com/entertainment
. it's being updated at the moment but if you do visit the Star in A Million headline is by yours truly. *ahem*